Binding with Briars My Joys & Desires: A garden of bourgeois pseudo-intellectual musings. A blog of intelligent beauty.

By: An annoyingly curious graduate student in the humanities.


"And the gates of this Chapel were shut,
And 'Thou shalt not' writ over the door;
So I turned to the Garden of Love
That so many sweet flowers bore.

And I saw it was filled with graves,
And tombstones where flowers should be;
And Priests in black gowns were walking their rounds,
And binding with briars my joys & desires."

- William Blake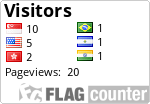 Disclaimer: None of the photographs are owned by myself unless otherwise stated.